Select Bus Service
Woodhaven-Cross Bay Boulevards Select Bus Service
The Corridor
Woodhaven and Cross Bay Boulevards extend north-south across Queens, between Queens Boulevard and the Rockaway Peninsula. Multiple local, Limited-Stop, and Express routes carry over 30,000 bus riders along the corridor. Segments of Woodhaven and Cross Bay Boulevards are wide with up to five travel lanes. This width provides the opportunity to implement substantial enhancements to bus service with a large range of design options focused on improving bus speed and reliability, as well as the overall safety of the street. The corridor offers links to several bus routes, the Long Island Rail Road and subway lines including the
.
Since 2008, the New York City Department of Transportation (DOT) has been studying Woodhaven Boulevard and making improvements, and is now working with MTA Bus Company to evaluate Select Bus Service improvements on the corridor.
Project Description
The goal of the project is to implement Select Bus Service improvements that make existing bus service substantially faster and more reliable, while maintaining existing bus and subway connections, needed traffic flow and parking, and also making the corridor safer for all users. A combination of bus lanes, signal optimization, and transit signal priority can reduce bus travel times and greatly reduce the variability that congestion imposes on bus service.
This project is focusing on the existing Q52/Q53 Limited-Stop bus routes, which extend approximately 14 miles from Rockaway Park and Arverne in the Rockaways to Elmhurst and Woodside in central Queens.
Features
Some improvements being studied as part of the project include:
Dedicated bus lanes
Enhanced Stations
Bus branding
Improved fare collection
Passenger information
Transit signal priority
Pedestrian safety improvements
Map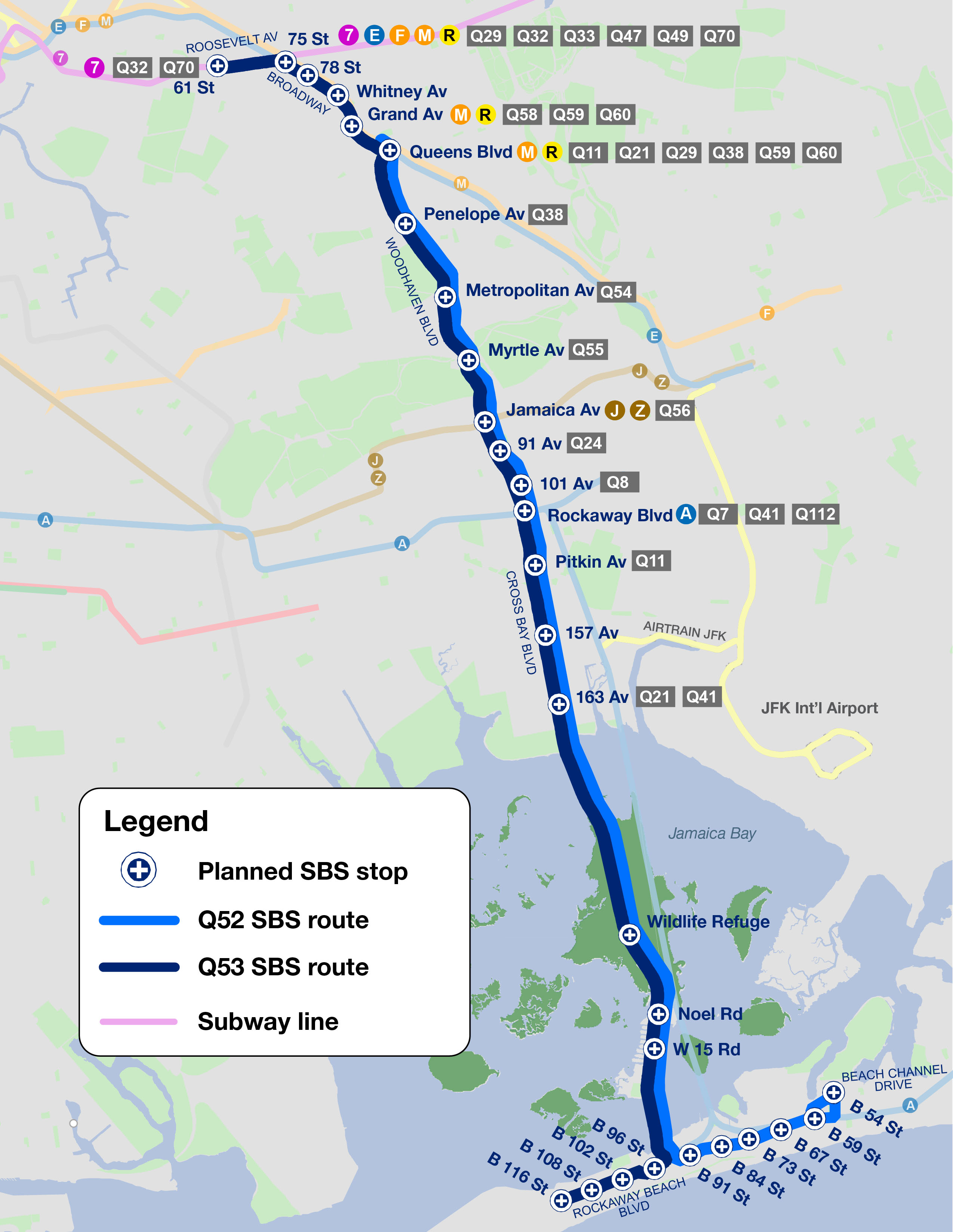 Map showing station locations
Google Translate